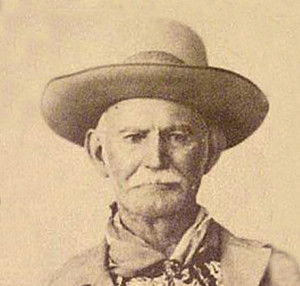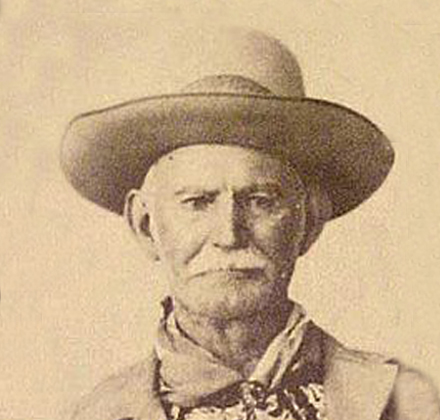 Bushy Bill Roberts died claiming he was Billy The Kid.
Was he telling the truth? Did billy really survive?
It was July 14th,1881 in Fort Summer, New Mexico. Billy the Kid had just climbed into Pedro Maxwell's house. While walking along the darkened corridor he was just about to enter a room when he heard a noise. He called out "Who is it?" in Spanish and then was shot down dead by Pat Garrett. Billy didn't even see the person that had taken his life. It was a quick and biting death for the Kid who had gained fame and notoriety throughout New Mexico for killing several men and recently while in the custody of Garrett awaiting his death sentence, escaping jail and killing both his prison guards. Billy was a wanted man with a price on his head. After his death Billy went on to become a legend and Sheriff Garrett became famous for being the person that killed him. Garrett even wrote a popular book about Billy titled "The Authentic Life of Billy the Kid". But did the story end there?  Many have since claimed that Billy didn't die that night. Some claim that both he and Garrett were friends and Garrett had arranged his escape, or that he was wounded but his friends had helped him back and buried another man that had died that day to aid Billy's escape from the law.  
One of the most famous claimants to be Billy the Kid was an old man called Oliver L. Roberts better known as "Brushy" Bill Roberts from Hico, Texas.
How the story began. In 1948 a probate investigator called William V. Morrison travelled to Florida to investigate a case he was assigned to. The claimant was an old man going by the name of Joe Hines and he was claiming the estate of Jesse Evans' brother. During the interview Joe Hines revealed that he was actually the outlaw Jesse Evans. He had discussed his part in the Lincoln county war being the leader of the Jesse Evans gang also known as "The Boys".  In 1877 Billy the Kid was said to have rode with the gang under the Murphy-Dolan faction before he swapped to work for the Tunstall-McSween faction. Joe Hines even went on to tell Morrison that two members from that period were still alive. One was Jim McDaniels and Evens gang member another was Billy the Kid! Hines eventually won his case and was given his deceased brothers estate. Hines said that Billy the Kid was now going by the name of Ollie P. Roberts and was living in a place called Hico in Texas.
During his research Morrison managed to find Martile Able, Severo Gallegos, Jose Montoya, Sam and Bill Jones as well as a former Evans Gang member called Jim McDaniels. They all knew Billy some of them signed affidavits saying that that "Brushy" Bill Roberts was in fact Billy the Kid, the Jones brothers didn't want to sign but said they agreed that Bushy was Billy the Kid.
When Morrison finally tacked down "Brushy" Bill Roberts in 1949, Roberts initially denied being the kid. After speaking to "Brushy" his family and friends Morrison was convinced that "Brushy" was Billy the kid and tried to convince him to come forward. "Brushy" was not keen to do so but eventually agreed as long Morrison agreed to help him gain his pardon from Governor Thomas J. Mabry.
A meeting was set up on November the 29th 1950 which took place in Mabrys residence. Attending  this meeting where "Brushy" Bill, his lawyer Morrison, Governor Mabry, Jarvis and Oscar Garrett (Sheriff Pat Garrett's sons), Cliff McKinney (son of Kip McKinney a deputy of Garretts who had been there the night Garrett shot Billy), Arcodio Brady (grandson of Sherriff Brady who was killed by the Kid and the regulator). Also present were prominent historians Will Robinson, William Keleher and E. Mann as well as armed policemen, reporters and photographers.
Bushy Bill gave an account of the events and was question by those present. It was said that during his testimony "Brushy" Bill Roberts made many errors and simple mistakes, others say "Brushy" suffered from a stroke and that is why he was unable to answer simple questions and in fact some of the questions asked were not relevant or derogatory. Bushy said he felt unwell and was taken to another room for a rest. Govenor Mabry said he would not offer "Brushy" the pardon as he did not believe Bushy was the Kid.  On the 27th of December "Brushy" Bill Roberts suffered a massive heart attack and died.
Bibliography and recommended reading:
"The Real Billy the Kid AKA: Brushy Bill Roberts," by Brett L. Hall, 2004
 "Alias Billy the Kid," by C. L. Sonnichsen & W. V Morrison, 1955
 "Billy the Kid & Me Were the Same," by Dr. William A. Tunstill, 1988
 "Billy the Kid: Killed in New Mexico—Died in Texas," by Dr. Jannay Valdez & Judge Bobby E. Hefner, 1995
"The Return of the Outlaw Billy the Kid," by W. C. Jameson & Frederick Bean, 1998