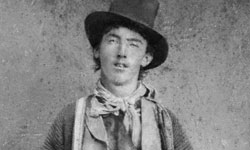 NICK NAME: "Billy The Kid"

REAL NAME: William Henry McCarty Jr.

OCCUPATION: Outlaw, Criminal

DATE OF BIRTH: 1859 (exact year and month still disputed)


DATE OF DEATH: July, 1881

PLACE OF BIRTH: New York (disputed)

PLACE OF DEATH: Fort Sumner, New Mexico

AKA: "Kid Antrim"

AKA: The Kid

AKA: Henry Antrim

AKA: William H. Bonney
There are many rumours and stories circulating about Billy the Kid but lets try an separate the facts.
Billy the kid killed his first man aged 12 who had insulted his mother
False.  The first man The Kid is known to have killed was an Arizona blacksmith called Frank "Windy" Cahill who often bullied and tormented The Kid especially in front of others. One day Billy had had enough and called Cahill a "son of a bitch". Cahill then jumped on Billy and started to beat him up. The kid then reached for his pistol and shot Cahill. Cahill died the following day and Billy was only 16 years of age. The kid fearing imprisonment left Arizona and returned to New Mexico and sharpened his shooting skills by being involved in the Lincoln County War for the following 4 years.
Billy the Kid was left-handed
False. Billy the kid was right handed, although he could also use his left just as well. The main reason for this myth is that in the famous tintype photograph of him he is seen wearing the holster of his gone to the left hand side. This was even the bases of a 1958  film about him, "The Left-Handed Gun." In fact tintype photographs are actually mirror images, so the holster would have been on his right hand side.
In the picture below the image of Billy on the left is the original tintype (mirror) image, where as the image on the right is how he would of really have been standing for the picture.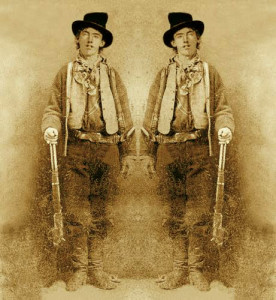 Billy the kid had bucked teeth and was ugly
True & False.  Billy did have to front teeth that protruded when his mouth was open or smiling however many accounts call him handsome, quick witted and charming.  Here is one description "He is about five feet eight or nine inches tall, slightly built and lithe, weighing about 140; a frank, open countenance, looking like a school boy, with the traditional silky fuzz on his upper lip; clear blue eyes, with a roguish snap about them; light hair and complexion. He is, in all, quite a handsome looking fellow, the only imperfection being two prominent front teeth slightly protruding like squirrel's teeth, and he has agreeable and winning ways." Las Vegas Gazette, December 27, 1881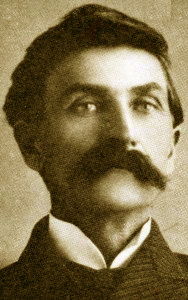 Pat Garrett

Billy escaped Garrett and lived to become an old man
False.  Sheriff Pat Garrett shot billy in a dark room in Pete Maxwel's house. The bullet which was lodged just above his heart killed him. Many saw his body after his death.
The Kid wasn't just an outlaw he had several normal jobs while growing up
True. Henry worked in several different jobs which included a butcher shop and in a hotel where he washed dishes and served as a waiter. He also worked as a ranch hand, before turning to less honest ways of making a living which included gambling, horse thief.