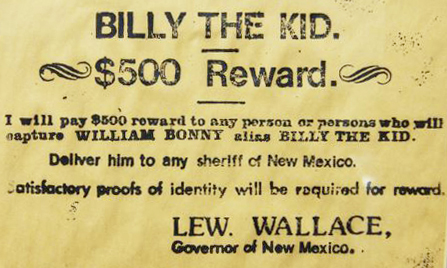 Billy the Kid (a.k.a. William Bonney) is without a doubt the most famous outlaw that has ever lived. He died at a young age but will forever be remembered. He is man of many tales and some myths. Countless books and some movies have been made after him. Some see him as a bad guy and one we shouldn't admire, others as a hero and some as a lovable rouge. Whatever your feelings, he is without doubt a memorable character who has come to represent one of the great chapters of human civilization, the Wild West!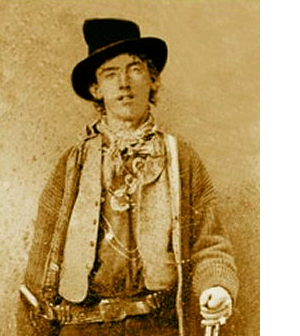 His name was William Henry McCarty. Some knew him as and he sometimes liked to go by the alias of Henry Antrim. Most know him as "Billy The Kid" or simply "The Kid". No one knows for sure when or where he was born but many believe he may of been born in New York in or around the 23rd November 1859 and he died 14th July 1881.
He claimed to of killed 21 men, one for each year of his life. No one can prove or disprove that claim we do know that he did definitely kill several men and he was jailed and sentenced to death by hanging before escaping.
This is the story of Billy The Kid.
Childhood
Billy The Kids early years and childhood are full of mystery. He was said to have been born in an Irish neighbourhood of New York in 1859. His birth name was apparently William Henry McCarty and he was of Irish decent. His mother's name was Catherine McCarty (later to become Catherine Antrim). No one knows for sure but it has been suggested Catherine immigrated to the US from Ireland, perhaps when she was just 17. There is a record of a Catherine McCarty travelling from Liverpool to New York on a ship called the "Devonshire" around April, 1846. However there is no solid proof this was her.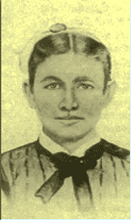 Catherine McCarthy Antrim
In 1870 they all moved to Wichita in Kansas. Antrim worked on a farm and Catherine run a laundrette and invested in property.  After about a year Catherine was diagnosed with Tuberculosis and because at the time doctors recommended a warm climate as an ailment for the condition, so they then once again sold up and moved on.
It is said they first travelled to Denver, Colorado and then to Santa Fe in New Mexico where Catherine and William Antrim married on March 1, 1873. A couple of months later they finally arrived in Silver City where they settled down. Silver City was a bustling little mining town.  With the sale of her properties and laundrette business, they were able to purchase a small place in the town right on Main Street and Broadway. Catherine once again offered a laundrette service as well as selling home baking as well as taking on lodgers. William Antrim worked in mining. Billy and his brother attended the local school, quickly made friends and enjoyed playing and dancing.
Catherine worked hard to both raise her kids and try to make money to support her family. William Antrim spent a lot of time away from home prospecting with very little e success and he also liked to drink and gamble. During the middle of 1874 Catherine's condition worsened and after spending several months in bed she passed away on September 16, 1874. William Antrim was away at the time so it left her friends and neighbours the task of arranging her funeral. Billy was very close to his mother and her death no doubt crushed both him and his brother. 
When Antrim did return he sold his cabin and placed his son in care and left for Arizona. Billy was placed with the Truesdell family who owned a local hotel where he had to work as a waiter and table tender as well as doing odd jobs to earn his keep. Joseph was placed with John Dryer who was the owner of the Orleans club and was made to work as an errand boy.
According to the accounts at the time Billy had light brown hair, blue eyes and was of slim build. He was often seen wearing a sombrero hat which had a large band around it. He was also said to be very polite and charming. He was easy to like and friendly but he could become angry and violent instantly.
Becoming An Outlaw
Aged 15 Billy was in trouble with the law of Silver city when he stole some clothes from a laundrette with his friend, so he decided to leave town and travelled into Arizona. Not much is known about this period but he was said to have been working in some ranches in town when work was available. It was around this time when he killed his first man. The story goes that a blacksmith called Frank P. Cahill who was a huge Irishman had been drinking in George Adkins Saloon in Camp Grant, Arizona. Both men got in an argument an Cahill slapped Billy to the floor and they got in a bit of a tussle. Billy being out weighed and realising he probably was in trouble drew out a pistol and ended up shooting Cahill in the stomach. Cahill died the next day and The Kid had been thrown into a guardhouse from which he escaped and went on the run.
He then ended back in New Mexico where he worked as a cattle hand for Murphy and Dolan. They had some of Lincoln County's biggest cattle ranches but were in competition with McSweeen and Tunstall.  Billy ended up meeting with John Tunstall (whom was a wealthy Englishman) and they hit it off straight away. The Kid ended up leaving Murphy and Dolan and began rustling cattle for Tunstall. He looked up to Tunstall as the father figure he never had. Tunstall was also very fond of Billy and once said "That's the finest lad I ever met.  He's a revelation to me every day and would do anything to please me.  I'm going to make a man out of that boy yet."  However Tunsdall was killed by men whom Billy used to work with when working for Murphy and Dolan and may have called friends. They had been made deputy sheriffs by sheriff William Brady who had in turn been helped to be made sheriff by Murphy and Dolan. Tunsdall was stopped by these men and an argument began about the ownership of cattle. Tunsdall didn't want any trouble and so handed over his gun. Jesse Evans and Billy Morton then shot him dead while he was unarmed.
Billy heard of this and was enraged, he said "I'll get every son of a bitch who helped kill John if it's the last thing I ever do". A posse was formed to get revenge and Billy joined this posse. They called themselves "The Regulators". Richard M. "Dick" Brewer was sworn in as a special constable to arrest the killers of Tunstall. Billy became a deputy.
The Regulators chased the men they were after and managed to catch Morton and Baker the plan was to transport them to John Chisum's ranch.
The Regulators decided that the two captives shouldn't make the journey alive. One of the members McCloskey did not agree with this plan and after an argument was shot dead by fellow Regulator McNab. McNab put his gun to the head of McCloskey bloow his brains out.  Morton and Baker knowing they would be next fled the scene.  The Kid seeing them run chased them down and fired two shots, killing them both. 
The Regulators then split up and went their own ways. An old veteran called Andrew L. "Buckshot" Roberts who worked for Murphy and Dolan heard of this and promised to take revenge by hunting down the men including Billy. In April of 1878, Brewer and the Regulators (which including the Kid) decided to take the war to Roberts. They tracked Roberts down to Blazer's Saw Mill located south of Lincoln. When Roberts saw them approach he charged at them firing his guns. Billy jumped off his horse and fired at Roberts hitting him in the stomach. Roberts managed to escape and hide in an outhouse. Roberts fired from the outhouse and injured a few of the men as well as shooting Brewer in the head. The Regulators continued shooting at the outhouse until Roberts lay dead and full of holes.
After Brewer's death The Kid continued his pursue those responsible for the death of John Tunstall. On the 1st of April Billy and five accomplices rode into Lincoln quietly and set a trap for Sheriff Brady. They hid behind a wall which they made holes through to be able to shoot. Sherriff Brady, Hindman and Matthews walked down the street armed. As soon as they came into range The Kid and his group shot at the three men. Sheriff Brady was shot down dead, Hindman was shot down and later died of his wounds. Matthews put up a good fight and survived. After killing Brady and wounding Hindman, Billy and his posse rode out of town. After this event Lincoln became divided because some thought what Billy and his posse did was cowardly, while others thought it was justice as Sheriff Bradys men had killed Tunstall in cold blood.
This now meant the Kid and his posse were wanted men. A new Sheriff George "Dad" Peppin was instated. Peppin was also of Murphy and Dolan alliance so The Kid could not expect much sympathy. Peppin gathered around forty men and went into pursuit of Billy and his gang. They caught up with Billy and 14 others when they were visiting Alexander McSween at his mansion in Lincoln. Billy and his gang were surrounded so they barricaded themselves and were ready for a gunfight. Billy and his gang refused to surrender so a gunfight began which lasted for five days. Marion Turner who used to be with McSween-Tunstall but now was with the Murphy-Dolan told Billy he had a warrant for his arrest and to give up. The kid shouted back "We too, have warrants for you and all your gang which we will serve on you hot from the muzzle of our guns!". The gunfight continued. McSween's house was full of holes and Billy had killed and wounded another. Billy and his men knowing they had to escape made a run for it. Miraculously Billy managed to dodge the bullet fire crossed a river and disappeared into the long grass. McSween not wanting to run away from his house walked out of his house unarmed to surrender but was shot nine times and died.
Around this time Lew Wallace was made governor. Billy set up a meeting with Wallace as he knew he was a wanted man and set up a deal whereby he would be captured but in exchange for his witness statement of another murder case he would be pardoned for his previous killings.  However while The Kid was waiting to give evidence in court he had second thoughts and made an escape from his cell. He headed off to Fort Summer. While there he had heard of a Texan called Joe "Texas Red" Grant who was a bounty hunter had been boasting to everyone that he was going to become famous by being the man that killed Billy The Kid. Billy having heard this approached Joe in the street. Joe did not recognize him and Billy made the impression that he was impressed and interested in Joe. He even convinced Joe to hand over his gun so that he could look and admire his six shooter. While Joe wasn't looking Billy removed three bullets from the pistol and making sure it was lined up on the first empty chamber handed it back to Joe. Billy then told Joe that he was Billy the kid and they both reached for their guns. Of course Billy won and the outwitted Joe Grant lay dead.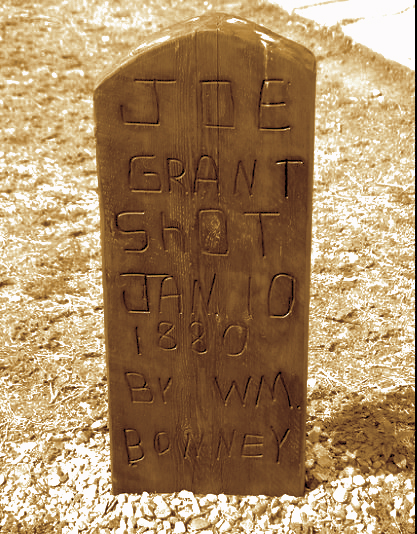 The Kid was on the run again and on Nov 27, 1880 a posse managed to catch up with him as well as his friends Dirty Dave Rudabaugh, and Billy Wilson. During this encounter a man named Deputy James Carlyle was shot dead. Some say the killer was The Kid others one of his friends or the Deputy's own posse. Either way Billy or his friends once again escaped capture.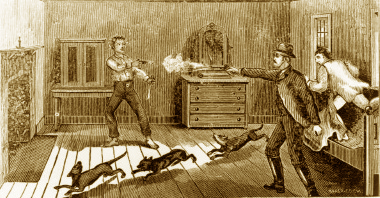 Pat Garrett
Pat Garrett who was previously a Texas Ranger was elected Sheriff of Lincoln County in 1880. Garrett decided to track Billy The Kid down. Billy was a highly wanted man at this time was famous throughout the area and had a $500 bounty on his head. Garrett tracked down Tom Bowdre and Charles Bowdre whom both were two of The Kids acquaintances and accomplices. Garrett killed both of them in Stinking Springs, New Mexico and captured Billy The Kid who he brought to a trial to face murder charges. The Kid was transferred to Fort Summer where he spoke to a reporter from the Las Vegas Gazette and then onto Santa Fe. While Billy was waiting to be sentenced he wrote four letters to Gov. Wallace asking for clemency.
Escape From Lincoln Jail
After waiting for 3 months in Santa Fe, Billy was transported by train to Messila to be sentenced. The trial lasted 2 days and on April 13th 1881 The Kid was found guilty and sentenced to hang by Judge Warren H. Bristol. Bristol was a slight man with a full grey beard. The judge was sat at one end of the crowded courtroom on a platform, while The Kid was sat cuffed and guarded to the right of him looking defiant. When delivering his verdict the Judge famously said "You are sentenced to be hanged by the neck until you are dead, dead, dead!" to which Billy laughed and replied "And you can go to hell, hell, hell!"
The Kid was then transported to Lincoln County Courthouse by Robert "Bob" Ollinger as well as others to wait for his execution which had been scheduled for 13th May 1881. Ollinger reportedly taunted and teased Billy along the way. To which the Kid was supposed to have said "Be careful Bob, I'm not hung yet". however Ollinger continued to torment Billy in jail and Garrett even told him to "lay off the kid".
During his time in Lincoln jail Billy managed his most daring escape (some might even call him the original Houdini!). At the time he was being guarded by Garrett's deputies, James Bell and Robert Ollinger. On April the 18th while Pat Garrett was out of town Billy managed to kill both his guards and escape. According to some accounts at the time, Billy asked to go to the toilet. Upon returning to his cell and walking up the stairs with Bell he slipped his off his shakes and struck Bell over the head with them. He then grabbed Bells gun and shot him with it. Ollinger was escorting some other prisoners for their daily meal at the Worthy hotel across the road. He knew Ollinger would have heard the shots so he run over and picked up Ollinger's 10 gauge double barrel shotgun and headed for the window. As Ollinger came running toward the building Billy shouted down "Hello Bob" and shot him dead with his own shotgun. He then used a pick axe to break his leg irons, jumped on a horse and rode out of town.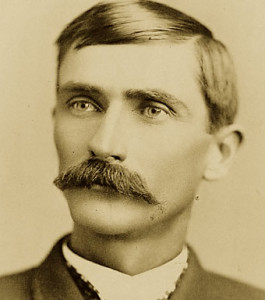 Pat Garrett
How did billy the kid die?
There are several different versions of what happened next the facts are Pat Garrett shot and killed The Kid at night. Probably the most likely version says Billy had a girlfriend called Paulita who the sister off and lived of Pedro Maxwell. Pat Garrett knowing that Billy would at some point return to see his girlfriend lay in her room (some say he even gagged her) and waited for Billy. Others that Garrett was in Pedro Maxwell's room. Billy did turn up and entered the house at night during darkness. He heard a noise and spoke out Quien es? Quien es? ("Who is it? "Who is it?" in Spanish) Garrett seeing an outline at the door fired two shots. One of the bullets struck billy in the chest and he fell. Garrett run out the house unsure whether on not he had killed The Kid but did not want to hang around to find out.
 Garrett allowed the Kid's friends to take his body across the plaza to the carpenter's shop to give him a wake. The next morning, Justice of the Peace Milnor Rudulph viewed the body and made out the death certificate but Garrett rejected the first one and demanded another one be written more in his favor. The Kid's body was then prepared for burial, and at noon was buried at the Fort Sumner cemetery between his two friends, Tom O'Folliard and Charlie Bowdre.
According to the Albany Evening Journal (NY) dated July 20, 1881 "the sheriff received a reward of $500 and $900 raised by the people". However the fact is that Billy was friends with nearly everyone Fort Sumner. He was also friends with several members of the jury. Garrett himself said that he felt threatened by the townspeople after he had killed Billy.
Bibliography
Bell Boze, Bell   The Illustrated Life and Times of Billy the Kid  
   Nolan, Frederick  The Lincoln County War: A Documentary History
Nolan, Frederick   The West of Billy the Kid                             
    Weddle, Jerry   Antrim is My Stepfather's Name: The Boyhood of Billy the Kid
   Garrett, Pat   The Authentic Life of Billy the Kid
   Utley, Robbert   Billy the Kid: A Short and Violent Life
Recommended sites:
http://www.eyewitnesstohistory.com/billythekid.htm
https://en.wikipedia.org/wiki/Billy_the_Kid
http://www.legendsofamerica.com/we-bobollinger.html
 The images pictured on this page (or other media file) is in the public domain because their copyright have expired, or/and are used under the fair usage policy for educational purposes.